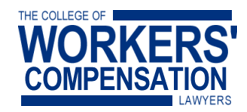 Categories: Attorney News, Firm News
The College of Workers' Compensation Lawyers recently featured as an article of interest, "The Ethical Obligations of Counsel Representing Parties Under the Longshore and Harbor Workers' Compensation Act," 14 Loyola Maritime Law Journal 251 (2015), co-authored by Tommy Dulin and MMK's Kevin A. Marks.  The law journal article discusses ethical consideration in practice under The Longshore Act.
To read Judge David Torrey's written review of the law journal article, please check here.
← News