Categories: Firm News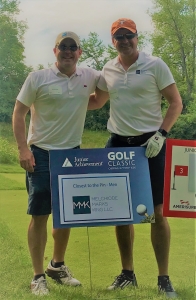 MMK was a proud sponsor of Amerisure's 19th Annual Chipping in "fore" Kids Golf Classic at Oakland University's R&S Sharf and Katke-Cousins Golf Courses in Rochester, Michigan on Monday, June 18, 2018.
The event benefited the Junior Achievement® (JA) and the young people it serves in our communities.  Funds raised will be used to purchase classroom materials for use by Amerisure employees, as well as employees from other local businesses, who volunteer their time to teach the Junior Achievement program to nearly 45,000 students each year.
← News